Huntsville Oks deal 'confident' Blue Origin plant is coming
Updated on July 15, 2017 at 11:43 AM Posted on July 14, 2017 at 5:17 AM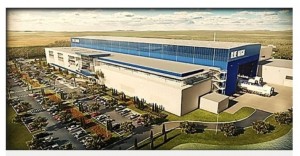 This illustration shows the design planned for the Blue Origin rocket engine plant coming to Huntsville's research park. (City of Huntsville)
By Lee Roop lroop@al.com
The Huntsville City Council unanimously approved a deal Thursday night to bring a $200 million Blue Origin rocket engine factory and up to 400 high-paying jobs to Cummings Research Park.
That so-called Project Development Agreement depends on Blue Origin Alabama getting an engine production contract from United Launch Alliance. ULA assembles rockets in nearby Decatur to launch military and commercial satellites into space, and it needs a new engine to replace the Russian one it now uses.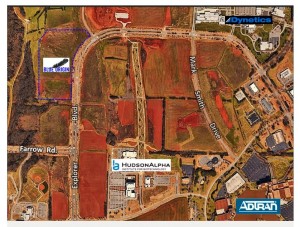 This map shows the location of the new Blue Origin rocket engine plant coming to Huntsville's Cummings Research Park West. (City of Huntsville)
But Blue Origin also needs the new engine for its own rockets, and city industrial recruiter Shane Davis said, "We feel really confident," that the plant will come.
If it does, and Davis expects to know for sure by the end of this year, Blue Origin will build on 46 acres the city gives it in Cummings Research Park West. The first phase of the two-phase deal will employ 265 full-time employees with "an average hourly wage of at least $36" and an initial investment of $90 million by the company.
The second phase will add 77 employees at the same pay and an additional $110 million in capital investment by Blue Origin.
As part of the deal, the city, county and state will:
* Pay $1 million in project development costs upon completion of Phase 1. That is split between Huntsville and Madison County.