Thrive Announces Innovative New Senior Living Community in Huntsville, AL
Atlanta-based Thrive Senior Living has announced this week that it will be breaking ground this summer on an innovative new Assisted Living community in southeast Huntsville, AL
Atlanta-based Thrive Senior Living has announced this week that it will be breaking ground this summer on an innovative new Assisted Living community in southeast Huntsville, AL.
Focusing on resident engagement and connectivity in a unique, resort-like environment, Thrive at Jones Farm will use a blend of innovative technology and southern hospitality to create a distinctive experience for a new generation of seniors.
The 93 unit community will feature luxuriously appointed resident apartments, a spa, beauty salon, fitness center, doctors office, movie theater, multiple courtyards featuring rich outdoor amenities, and much more. Interior finishes will defy the traditional look and feel of most senior living communities, featuring warm tones, stone, wood, and granite surfaces in a lodge-like environment.
Residents will access their apartments using a keyless RFID system, which can also be used to access the state-of-the-art pneumatic fitness equipment featuring a flat screen display which coaches residents through each new workout and encourages measurable improvements. Going far beyond most industry programs, Thrive's proprietary wellness program allows residents, their families, and their physicians to have a holistic picture of their well-being through the use of tools such as activity trackers and innovative in-room monitoring systems that learn each resident's routines and patterns and can report anomalies and trends.
Thrive's unique approach includes using technology to improve resident quality of life, and to deliver care more efficiently and with more accountability. While the majority of the senior living industry relies on paper records, Thrive utilizes the LG Smart Senior Living platform, which creates an entirely digital environment and integrates communication, medication management, electronic health records, and resident care plans all on a single device in the hands of each care team member. Physicians and pharmacists will have instant access to 'real time' analysis of a resident's complete health picture, allowing a more holistic approach to care.
The community will be located at St James Place on Cecil Ashburn Drive, a John Blue Realty planned development in Jones Valley, near the intersection of 4 Mile Post Rd. SE and Carl T Jones Dr. SE. "While there are some great providers of senior care in Huntsville, the market has grown tremendously over the past 10 years, and hasn't seen a truly innovative new alternative" says Jeramy Ragsdale, CEO of Thrive Senior Living. "I look forward to seeing people's reaction to this new community. It will not line up with the traditional perception of senior living, and that's the goal."
Thrive at Jones Farm is being developed by Thrive Development Partners with assistance from John Blue Realty, LLC.
About Thrive Senior Living: Thrive Senior Living is an innovative and high-growth operator of assisted living and memory care communities with a business model focused on improving resident quality of life through intelligent design, innovation, and accountability. With locations across the southern US, Thrive is continuing to expand and has recently announced a partnership with LG, one of the world's leading technology companies, to develop a suite of solutions uniquely tailored to the assisted living industry. For more information on Thrive Senior Living, visit http://www.thriveseniorliving.com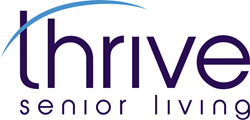 "I look forward to seeing people's reaction to this new community. It will not line up with the traditional perception of senior living, and that's the goal." – Jeramy Ragsdale, CEO Thrive Senior Living